To The International Bomber Command Centre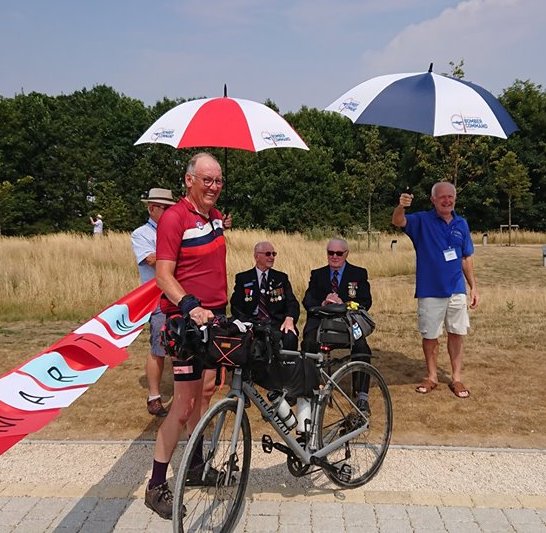 After 17 days of riding, today was the final day. It was a comparatively short run from Woodhall Spa along the Sustrans route into Lincoln.
I didn't manage the Steep Hill up to Lincoln, my legs are finally starting to suffer.
After a quick coffee by the Cathedral from where you can clearly see the spire of the IBCC I descend Steep Hill, (walking again, cleats are slippery of cobbles). I consulted the approach map provided by the IBCC and climbed the short but intense Cross O'Cliff Hill and with the wind on my back for thievery first time that day coasted to the International Bomber Command Centre and swathed on the counter at 1725,85 – 8% more than I expected!

In the decades following the Second World War, Bomber Command veterans were almost forgotten.
The extensive bombing of civilians did not fit with the idea of a just war. Veterans tended not to talk about their experiences.
From the 1980's, this began to change. Small memorials began to appear, such as church windows, plaques at crash sites and stone memorials alongside disused runways. Then in 2012, the Queen unveiled a memorial to Bomber Command in Green Park, London.
What explains the timing of this recognition, so many decades after the war? Perhaps it was the diminishing number of veterans. Perhaps the next generation began to feel that their parent's service in Bomber Command needed to be fittingly remembered.
Perhaps a very long period of social peace in Britain has made it easier to deal with the very high losses, both within Bomber Command and of civilians under the bombs.
Source: Text from an exhibit at the International Bomber Command Centre.
Progress
Distance -1725,8 km 7% further than I thought
Climbing 13100 metres - 2% higher than I thought.
102 hours in the Saddle 11% longer than I thought
Completed 1725 KM
125 km More than anticipated.
We're exceeding the target!

£831 Donated over target!
Old Target of £2000
This post is also available in:

Français