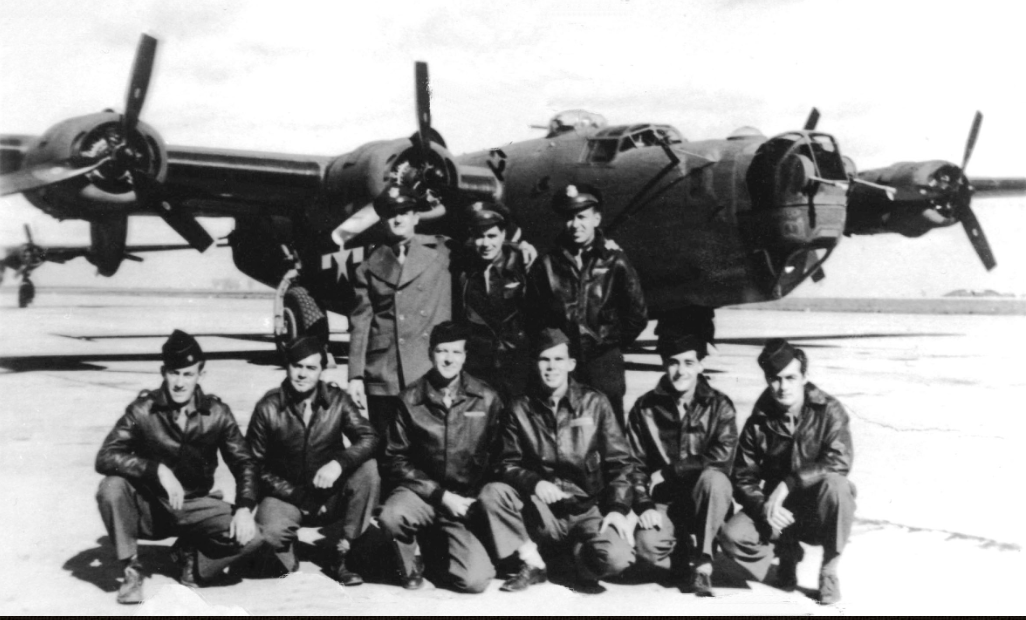 I've headed north today closer and closer to Bomber County – Lincolnshire.
But first, and really close to my bed for the night in Maidwell is the  Carpetbaggers Museum in Harrington. A brisk 3-mile climb on the bike, while my legs are still fresh, is not too much of a problem.
Why here? Well, the B24 Liberator, the Worry Bird that crashed in St Cyr de Valorges originated from here, and I wanted to find out more. I had arranged to meet the secretary of the Carpetbaggers Museum, Fred West who had kindly agreed to open up for me.
Pictured above
Back Row, left to right:
George W. Ambrose     –  Pilot        0-802693  (KIA)
Peter     Roccia      – Bombardier   0-679657  (KIA)
Robert H. Redhair     – Copilot      0-682897  (KIA)
Front Row, left to right:
Eddy    Dwyer         – Gunner       39089058  (Orphaned)
George  Henderson     – Gunner       39255460  (Evader)
Wilford Bollinger     –  Dispatcher   36350846
Charles M. Wilson     – Engineer     13108714  (KIA)
Donald  Dubois        – Gunner       11106596  (Orphaned >453rd BG)
James   Heddleson     – R.O.         15324873  (Evader)
Not pictured:
Arthur  Pope          – Navigator    0-808135  (KIA)
James   Mooney        – Gunner       12086824  (POW)
Quite simply I do not have the time to do justice to the story of the Worry Bird. The staff from The Carpetbaggers Museum have provided me with copies of flight logs, a letter from James Heddleson to the author Ben Parnel describing his escape, copies of casualty questionnaires and forms completed when Heddleson returned, a roll of honour and copy photographs.
I am so grateful for this information and it would not be doing justice to the story to try and précis it all here.
I will complete a page on all this documentation upon my return to France. In the meantime, I will leave you with a small quote directly from Jim Heddleson's letter…
Sgt James Mooney is over the Joe Hole. He volunteered for this mission (his first) we only met him just before take off … suddenly the planes shakes violently we hit of clipped something. I hit my forehead and was thrown back towards the Joe Hole .. Sgt Mooney is gone.
Progress
Distance -1609km
Climbing 12659 metres
97 hours in the Saddle
We're exceeding the target!

£196 Donated over target!
Old Target of £2000
IF YOU'VE NOT BEEN FOLLOWING THE BLOG - HERE ARE THE 3 MOST RECENT ENTRIES.
This post is also available in:

Français