Memorial to the crew of Worry Bird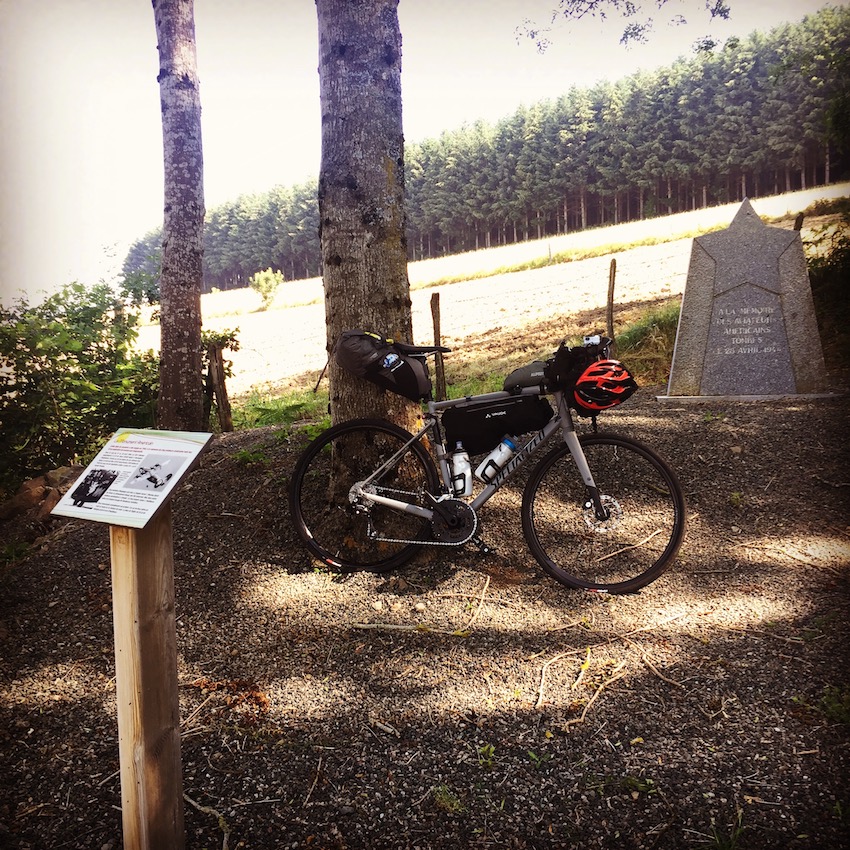 I couldn't get this location on my main route – so for a final days training, it made an excellent option, St-Cyr-de-Valorges.

On 27th April 1944, The Worry Bird, A B24 Liberator from the Carpetbaggers based in Harrington UK, crashed on the hillside near its drop zone at St-Cyr-de-Valorges during an operation to replenish the local resistance.

The bonus is that I got to ride past the memorial to the Crew of the Admiral Prune on my way home.
At the top of the hill stands an impressive monument to the American aircrew who died in this tragic incident.
On the evening of 27/28th April 1944, the crew from the 36th Bomb Squadron took off in The Worry Bird from the secret airbase at Harrington in Bedfordshire UK. Harrington was part of a network of bases used by the SOE and OSS for clandestine operations across occupied Europe. They were one of 21 aircraft dispatched that night. Their target was to replenish the Maquis in an area codenamed Lackey 3a.
All was going well. One Liberator had dropped its cargo and The Worry Bird began its descent in three circles to a very low altitude. Sergeant James C Mooney, on his first mission, fell through the Joe Hole, whilst unloading the packages out of the aircraft into the night sky. He managed to hold onto the parachute attached to the package but still landed heavily breaking his back. The Worry Bird banked and in so doing collided with the edge of the hill. The Maquis, who were collecting the packages from the first run, saw the plane crash into the hillside a short distance from them.
Five of the crew were killed.
Pilot, First Lieutenant George William Ambrose – Buried in Long Island Cemetery, NY (Purple Heart)
Navigator, Second Lieutenant Arthur Bozeman Pope – Buried in Marieta National Cemetery, Georgia (Purple Heart)
Co-Pilot, 2nd Lt Robert Harry Redhair (Purple Heart)
Bombardier, 2nd Lt Peter Roccia – Buried in Arlington National Cemetery, Virginia (Purple Heart)
Mechanic, SSgt Charles Melvil Wilson – Buried in Rhone American Cemetery, Draguignan, France ( Purple Heart , Air Medal)
Sergeant Mooney was taken in by a French Woman who, due to his horrific injuries, later handed him over to the Germans. 2 of the aircrew survived, Radio operator, SSgt James J Heddleston, who was thrown clear through the camera hatch and tail gunner Sergeant George Henderson. Both men disentangled themselves from the wreckage and ran. They  were not more than 25 metres from the plane when it exploded.
Both Henderson and Heddleston eventually made it back to the UK. I will write more of their exploits later.
Sgt Mooney was held captive by the German forces until his return to US Military Control at the end of the war in Europe. He was awarded the Prisoner of War medal.
Progress
Distance - 69.5Km
Climbing 1169 metres
3 hours 53 minutes in the Saddle
This post is also available in:

English